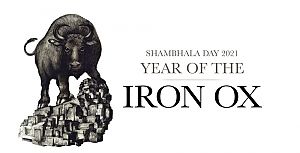 Shambhala Day practices on Zoom
SUNDAY, FEBRUARY 14, in Zoom hosted by Shambhala Center of Lexington
All offerings open to everyone!
Zoom link for both - https://zoom.us/j/93595396063
Shambhala Sadhana – 9:00 a.m. EST
If you were unable to practice with the New York City Center on Friday, join the Lexington Center Sunday morning Shambhala Sadhana practice.
I Ching, the Book of Changes – 10:30 a.m. EST
By casting coins and consulting the I Ching, we will explore and contemplate the question, "What is it that our Lexington Shambhala community needs to know as we enter the Year of the Iron Ox?".