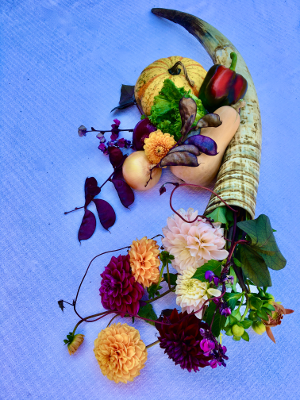 Ikebana Table Decoration Workshop-
with Brooke Pohl
Holiday Table Arrangements
We will practice making 2 different kinds of table arrangements for your holiday table:
1. A horizontal arrangement to be viewed from all directions. Made in a low flat (moribana) container with kenzan.
2. Morimono. An arrangement of flowers with fruits &/or vegetables, placed directly on table or with any container.
Please explore your world and bring all your own materials. (Perhaps some extra to share.) See what roots, vines, leaves, vegetables, fruits, and flowers interest you at the farmer's market, in your backyard, neighborhood, or grocery. Keep in mind line, texture and color. Choose your container(s) as well, to coordinate with your inspiration.
Please register online using the button below so we can plan to have enough supplies.
Sunday Nov 12 1:00-5:00
$35