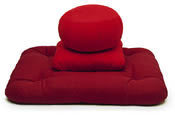 Quarterly Nyinthun Practice Day
A nyinthün is a full-day or half-day retreat where we can take the time to be with ourselves and extend our meditation practice. Nyinthun offers time to more fully immerse ourselves in the practice of mindfulness and to do so in a shared atmosphere of support.
This full-day retreat will begin with group meditation instruction followed by a period of alternating sessions of sitting and walking meditation, and sadhana practice. Participants who wish to bring a sadhana for silent practice are invited to do so. After lunch, there will be a teaching and discussion related to our experience of meditation practices followed by another practice period.

Participants may bring their own lunch or walk to a nearby restaurant; beverages will be provided. Please note that we will *not* be offering this program online; it is live only.
A donation in support of the Shambhala Center of Lexington is welcome and greatly appreciated!

Schedule
8:45 - 9:00 a.m. Please arrive in time to begin at 9:00 a.m
9:00 - 9:30 a.m.            Opening chants and meditation instruction
9:30 a.m. - 12:00 p.m.      Sitting and walking meditation, sadhana practices
12:00 - 1:00 p.m.      Lunch - bring your own or walk to a nearby restaurant
1:00 - 1:30 p.m.            Teaching and discussion
1:30 - 4:00 p.m.            Sitting and walking meditation, sadhana practices and closing chants
4:00 p.m.                Closing chants