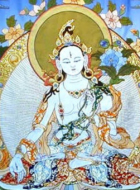 White Tara Practice with Shastri Shelley Heinz (in Zoom)
In uncertain times we may tend to experience increased anxiety. We can turn to ancient practices that counteract that quite skillfully. White Tara practice is specifically geared toward calming fear and caring for ourselves and others. To participate in this practice, students need to have an established practice of shamatha meditation and to have already received instruction in White Tara practice.
I am offering a practice session (via zoom) Monday, Wednesday, and Friday at 9-10 AM, and on Thursdays, 7-8 PM. I hope that you will take advantage of this and we can support each other during these strange times.
Shelley