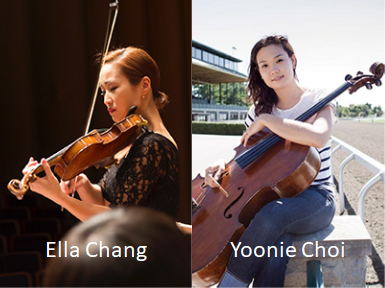 Concert: Music for Violin and Cello
Music for Violin and Cello
February 29 at 7:30 pm
Our Shambhala Day celebration concludes with a community event, a Concert of Music for Violin and Cello, featuring Eun Young (Ella) Chang, violin, and Yoonie Choi, cello, with a selection of pieces by Bach, Beethoven, Handel, Massenet, Monti and Shostakovich. The concert will be followed by a reception.
Biographies
Ella Chang, violinist, has been a soloist with the Busan Philharmonic Orchestra, the lncheon Philharmonic Orchestra, the Seoul Symphony Orchestra, the Eurasian Orchestra, the University of Kentucky Symphony Orchestra, and the Korea United College Orchestra. As an orchestral musician, Ms. Chang has performed as a concertmaster at the Eurasian Orchestra, the University of Kentucky Symphony Orchestra, and the Korea-German United Orchestra at the Berlin Philharmonic. Ms. Chang has also actively participated in the Korea Young Dream Orchestra, a youth orchestra program inspired by 'El Sistema.' After completing her Bachelor of Music and Master of Music degrees from the University of Kentucky in 2009, Ms. Chang returned to Korea to begin her professional career as a concertmaster, chamber musician, soloist, and teacher. After eight years of professional experience, Ms. Chang returned to the University of Kentucky and is currently pursuing a Doctor of Musical Arts degree. Ella Chang is a student of Daniel Mason.
Yoonie Choi, cellist, began playing the cello at the age of six in her native Seoul, South Korea. At thirteen, she commenced studies in America which took her to the Manhattan School of Music, the Oberlin Conservatory of Music and Kent State University. Dr. Choi now resides in Lexington, Kentucky after completing her recent doctoral degree in Cello Performance at the University of Kentucky. She was principal cellist with both the University of Kentucky and Kent State University Orchestras and was a member of the Cincinnati Chamber Orchestra, Wheeling Symphony Orchestra, and Akron Symphony Orchestra. In addition to performing and teaching, she has founded a company that trades Kentucky Thoroughbred horses to South Korea.
Below is an embedded video of Ella Chang playing the Handel-Halvorsen Passacaglia with the Korean United College Orchestra in 2018. She and Yoonie will be performing this piece for our concert.