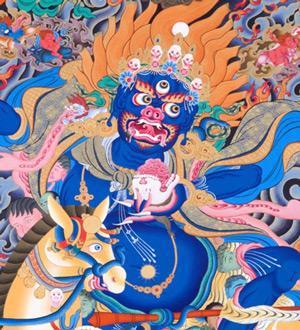 Dön Season Practice (Mamo Chants)
February 24, 2020 is the beginning of a new Tibetan (lunar) year, the year of the Iron Mouse. It is said that the last days at the end of the Tibetan year are marked by a propensity to lose one's mindfulness, and as a result we can have accidents and mishaps. The period preceding Shambhala Day is referred to in our sangha as the "dön season," because such sudden losses of mindfulness can be more common – and is a time during which it's recommended that we keep life simple, be very mindful and practice as much as possible.
In particular, we are encouraged to recite a chant called "Pacifying the Turmoil of the Mamos" together in order to purify the karmic causes of personal, social, and environmental chaos that accumulates at year's end. By reciting the chant, we tune into the protector principle of awareness and reconnect with sacred outlook.
This practice is open to all. While there is no charge for these evenings, a donation basket will be available: generosity is a very powerful way to clear away negativity! You are welcome to come for any or all of the evenings.