Gallery Hop: Essence of the White Swan
Artist: Andrea Perry
Gallery Hop: July 19, 5-9 PM
Dates: The exhibit will be up July 19 - August 11
Workshop: TBA
Essence of the White Swan showcases the beauty, strength and grace of the black ballerina. Executed in vibrant paints and mixed media, this poignant new series by Lexington, KY artist Andrea Perry translates the power of the art of dance into a 2D format.
Beyond physical grace and poise, the portraits also express the black ballerinas' spiritual determination to overcome their internal battles with the doubts and fears instilled by racism. Andrea's "white swans" are role models, inspiring other young ethnic girls to not let the harshness of society hold them back from their own individual expressions of beauty.
About The Artist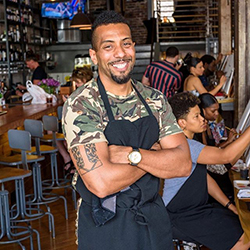 Andrea Perry, a small-town boy from Paducah, KY found his passion for art when he was just seven years old. While admiring his uncle's paintings hung in his grandmother's home, Andrea became lost in the rawness and energy of the beautiful landscapes and portraits. He realized it was in his genes to pursue his own journey into the arts.
Later, in his teens, Andrea's dream was nurtured by a particularly caring high school teacher who, instead of chastising him for his distracted doodles, actively encouraged him to enroll in the school's arts program. The subsequent three years focused on Art & Art History convinced Andrea that this would be his lifelong journey, and he enrolled at Western Kentucky University's Fine Arts Department. He studied many forms of art including sculpting, painting and art history, while dabbling in the pop art culture.
Andrea will be offering a workshop at the Center, similar to what's in the background of his photo above. Date and time to be announced.